The 5 Biggest Mistakes to Avoid When Hiring A Roof Repair Contractor in Sydney
It's no secret that Sydney is currently in the midst of a huge property boom. With median house price levels going through the roof, competition is extremely stiff for couples, families, and individuals who are looking to cut themselves into the local property market.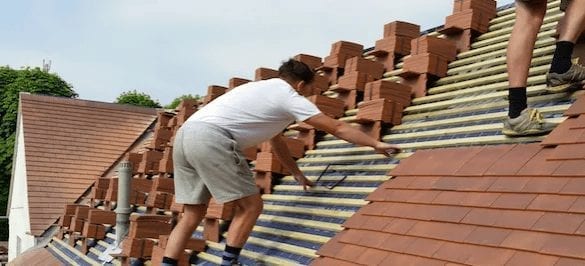 If you are lucky enough to own property in such a hot market, it's imperative you take care of it! Chances are you've either bought when prices are at an all-time high or you've watched as an investment into real estate made years ago has climbed and climbed in value. Whatever the case, the home you own is of great value, so it's very important that you look after it and keep it in great shape in order to continue to be able to capitalise on your property's value should you decide to sell in the hot real estate climate. If instead, you choose to happily live in one of the world's most hotly contested regions, you'll also want to make sure you're living in a home that is structurally sound and that the roof over your head is – quite literally – trustworthy and in great shape. Book an Onsite Estimate > >
Damage to Roofs
There are many ways in which a roof can get damaged. These include damaging winds or storms (and if you've lived in Sydney for more than a few months, you would have already experienced how intense some of the Australian summer storms can be, complete with hail and flash flooding), issues caused by falling debris from plants and trees going overhead, intense structural damage from falling trees, and general wear and tear caused by age as time goes by.
Sometimes, damage caused by an intense storm may not be immediately visible to the naked eye. Strong winds have the ability to bring about stress points in roofs that take time to develop, but as they do, they cause the roof to grow weaker and ultimately become compromised in its structural integrity. If you live in a region that experiences storms on a regular to semi-regular basis, there's an increased chance that these storms alongside time will lead to a roof that is structurally untrustworthy with core issues that will require the work of an experienced roofing professional to fix.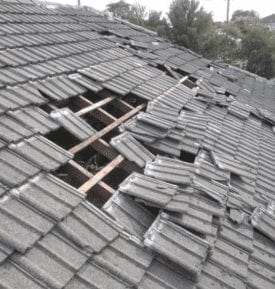 The way wind affects your roof is not equal across its entire surface. Instead, areas like corners or the roof's edge are more likely to suffer from wind pressure, whilst the center is the least at risk of any wind-related stress points that may arise. It's these corners that you really need to keep an eye on when it comes to the effect of wind pressure over time, as damage to the corners of the roof can lead to more serious problems as a result of water damage that can subsequently occur. If the material of the roof is slightly loose, you have the opportunity to get this solved before it can develop into something more serious, like tears in the insulation that lead to leaks. It's the result of repeated wind exposure that can slowly but surely put too much stress on a roof's edges and corners and bring about these issues, so keep in mind that it's much easier to fix a small problem than it is to wait for it to develop into something much more serious – and more costly!  Book an Onsite Estimate > >
Strong wind gusts are not only damaging in and of themselves, but they also have a habit of moving about debris that can collide with the roof. This, of course, can be more immediately damaging to the roof itself. In especially fierce wind gales, tree branches, glass or other fallen pieces of debris may land on the roof, causing blockages to the drainage in the gutters and often damage upon impact to the area which they hit.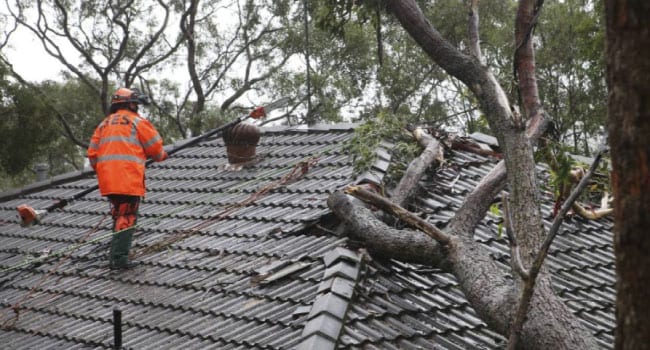 If you've had a crazy night of wind, it's important to check your roof for damage as soon as possible. If you find any damage, either indoors or outdoors, it's important to call in a professional immediately, so they can help you with a solution and a fix before the problem gets bigger.
Some companies work on national levels, but as Sydney has its own set of weather conditions and climate needs to consider when it comes to roofing repair and restoration techniques and styles, it's worth considering hiring someone who knows the local area well in order to gain from their specific knowledge. For example, while people with homes in Sydney don't have to worry about snow damage compared to, say, a homeowner in Colorado, there are a good chance roof repairers in Colorado don't have to deal with the kind of storm damage a great Sydney roof repair contractor will deal with on a regular basis!
Types of Roofs – Materials
Different roof types are common in various regions throughout the world, as homes are designed differently due to cultural or geographical considerations. Sydney is a beautiful area with many heritage homes and some of the oldest residential homes of any region in Australia. Some of the most common roof types in Sydney are Colorbond roofs, shingle roofs, or metal roofs.

Colorbond roofs are particularly popular in Australia as it's high in quality and versatile in its abilities. However, as Colorbond is a metal, it shows up hail damage very easily, with clear dents and the removal of the top layer of paint becoming problematic after a storm has dumped on the area. Whilst these damages could be purely cosmetic, if the Colorbond roof is a low-pitch roof, there could be more serious problems as water pools in the dents and causes corrosion, weakening the metal and threatening the roof's overall structural integrity.  Book an Onsite Estimate > >
Sydney is also home to many tiled roofs, which can also suffer from hail damage. Whilst cracks to tiles as a result of hail or falling debris may be less easy to spot, there's still consequences that arise out of this damage, and leaks may appear as time continues from holes and cracks in the roof that are difficult to see when they first appear.
When Your Gutters Need Repairing
Many people, Australian men, in particular, believe that 'nothing is too hard for a DIY!'. There's a reason our local Sydney Bunnings are overflowing on Saturday mornings – people who spend their 9-5 work weeks sitting in front of computers become DIY handyman experts on the weekends with home fix and home improvement projects (not to mention the bonus of a great Bunnings sausage on the way out). Whilst some people might indeed be able to achieve great results fixing up things around their home, more often, people will find they've overcommitted to some aspect of home improvement or home maintenance and in fact, should have left the job to the professionals.

Gutter repairs in Sydney are one of those areas that are best left to those who are well trained in the work. Gutters last a long time and can stand strong against the course of time, but when something goes wrong and a gutter needs replacing, this can become an urgent job in order to stop any further damage such as leaks from impacting on your home's structural integrity.
Choosing a contractor to repair your gutters requires the same logic and research as hiring someone to fix an issue with your roof. This is a job that requires care, patience, attention to detail and a high standard of work completion in order to ensure your home is safe, protected and your new gutters are going to withstand whatever life throws at them on a daily basis.
Gutter repair contractors will be able to provide you with a quote for the work that includes two separate elements: materials and labour. It's integral that you look at these two areas separately when you're choosing a company to contract with, as the better quality guttering will be an increased cost, but will be worth the investment in the long run compared to going with a cheaper material. You also need to ensure that the gutter repair contractor has their own insurance for the work to be carried out, leaving you free from any legal ramifications in case of any accident or harm caused during the installation process.

If you're concerned about receiving a quote with a per hour rate, ask if the contractor can provide you with a full installation cost instead. This will give you a full picture of the work required and give you peace of mind in knowing you've got a picture of the finished cost, rather than a per-hour quote that could blow out and add on extra dollars if the contractor works particularly slowly.  Book an Onsite Estimate > >
There are four commonly used types of guttering: vinyl guttering, galvanised steel, stainless steel, and aluminium. These types of guttering have different strengths, and some are more expensive than others as a reflection of their quality and how long they can be expected to last. Vinyl guttering is the cheapest and will be the easiest on any budget, whilst galvanised steel has withstood the test of time and is a popular choice used on many homes over decades. Stainless steel gutters are more expensive, but the expense can be worth it as they last far longer than vinyl or galvanised gutters. The last choice, aluminium, is the most popular used throughout Sydney currently, as it comes in many different colours and can match a wide range of roofing materials for a pleasing aesthetic result.
When Should You Replace Your Roof?
Making the decision to invest in a roof replacement may not be exciting as, say, spending the money on a return flight from Sydney to Fiji for a nice summer holiday, but there comes a time when the decision is unavoidable, and replacing your roof becomes a must in order to stop any further damage taking place.

This is a big job that requires the work of a reliable professional. By doing your homework, you'll be able to find a great roof repair contractor who will be able to provide you with a thorough quote, a contract, and peace of mind when it comes to the replacement of the roof that protects you and your family day after day.
Many companies have been in business for decades, servicing roofs around Sydney for many years. These companies will be able to provide you with a strong base of happy customers who can give you their testimonials first-hand as further peace of mind that your roof replacement contractor is going to give you great quality of work for your dollar.
Signs that your roof requires replacing than repairing include…
It's over 20 years old – whilst roofs are built to endure the test of time; materials used now are different to the materials used 20 years ago. Instead of investing in roof repairs, it may be wiser to invest in a full roof replacement, which will guarantee your home's structural integrity for far longer than you would have if you begin to patch roof issues on an older roof alone.

Moss is growing on your roof – moss growth is more than just an aesthetic issue on your roof, as they can hold moisture on the roof surface, causing damage over time to shingles via granules on their tops. This can weaken the roof's integrity and lead to cracks, leaks, and shingles falling off. Whilst moss can be brushed off, it's almost impossible to stop it from growing again, and its presence in the first place means there are gaps in your roof that are allowing for it to thrive in a cool and moist climate.
Cracked shingles – if multiple shingles are cracking and beginning to show their age, it may only be a matter of time before the shingles next to the ones you choose to have replaced crack as well. Your money may go further over time by making the choice to replace all shingles with something newer and more durable instead of fixing shingles here and there in a bits-and-pieces approach. Talk to your roof contractor about this, as their expert opinion will give you an insight into what's going to save you time and money in the long run.
If your neighbours are getting new roofs, it may be time for you to examine your own on a deeper level. Most homes in neighbourhood pockets were built at roughly the same time and, as a result, have experienced the same weather conditions as time has passed. If your neighbour has issues that are leading them to invest in a roof replacement, there's a strong chance your roof has suffered through the same conditions and may be nearing the end of its lifespan. Time to thank it for its great work and let it retire in peace, making way for a newer, younger roof to take over the work!  Book an Onsite Estimate > >
If shingle edges are curved, this is another sign the roof may be nearing the end and could require an upgrade.
Dark stains – these stains can be caused by airborne algae and can really reduce the aesthetic value of your home. If this is the case, you may require a new roof to remove the problem. This is particularly worth considering if you're looking to put an older home on the market for sale – the aesthetics of the home's street appeal could dramatically increase by removing these unsightly stains and sprucing your home up with a new and improved roof. After all, it covers a big surface area, so is hard to ignore if it's looking less than fantastic.
Roof Restorations
Some issues may not need a full roof replacement in order to be fixed. When this is the case, you'll require the services of a contractor to carry out a roof restoration instead.

Roof restorations can bring about great aesthetic and structural results. High-pressure cleaning can remove excess dirt and grime from roof surfaces, and surfaces can be resealed to stop any leakage through to the home below. Once these steps have been carried out, roofs are then re-bedded where required, with any broken tiles replaced. This is followed up by fresh coats of paint that will leave your roof looking spick, span, and brand new when carried out correctly.  Book an Onsite Estimate > >
Talk to your roof restoration expert in order to get an understanding of the process your particular roof will require given its current state, as each roof has suffered from different weather environments and will have different levels of cosmetic and structural damage.
Roof restorations should also come with a warranty of at least 10 years in order to give you peace of mind in a job well done. These warranties, when put in place by reputable roof restoration contractors, will cover both workmanship and materials. A company who is willing to stand by this warranty is more reliable and trustworthy than a contractor who cannot provide evidence of a warranty, as the warranty in and of itself gives contractors extra motivation to carry the job out to effective completion the first time around. Nobody wants to have to go back to previously completed work and fix up any sloppy mistakes, so look for a contractor who is as motivated as you are to get the job done perfectly the first time!
5 Biggest Mistakes
When hiring a roof repairer in Sydney, it's important you've done your homework and are aware of the areas you need to discuss ahead of confirming a contractor for the job. The roof is protecting your family's home, and if you hire someone who seems too good to be true and isn't actually a reputable company, you could face further damage as a result of subpar work quality. Take your time in doing your research, gathering quotes and speaking to the companies you need to in order to move forward with a decision you're comfortable with. If you don't, you may end up needing to put more time into fixing the problem that could have been avoided in the first place with another company – it's worth your energy!
1. Not reading through the roof repair contract before signing
A reliable roof repair contractor will be able to supply you with a contract that clearly states the work required, the contractor's liabilities, your liabilities, and the negotiated fee as payment for the service the contractor will carry out. Make sure you're comfortable with the end price that will appear in the contract and there's no hidden costs or figures that could arise to surprise you. As well, ensure the roof repair contractor has their own insurance to cover them for the job. As work will be carried out on your property, it's important you know that you're legally covered in case anything goes wrong during the roof repair process.
As well, ask to see the company's credentials to ensure they're a reputable company with an industry profile. This is not the kind of work where you want to hire someone from the Sydney Gumtree region – this is work that is best carried out by true professionals who can prove their credibilities and years of experience to you before you sign the dotted line and commit to the process with them.
2. Not speaking to any references
If the company you're looking to hire has completed great quality work before, they will have access to happy and satisfied customers who can speak to you directly about their own experiences with that particular company. If a contractor turns up with no background, no strong online presence with clear testimonials, and no phone numbers for satisfied clients he can pass on for you to do your homework with, the odds are that you're speaking to someone who is inexperienced and who will place you at greater risk of a job carried out to a poor level of completion.  Book an Onsite Estimate > >
Again, keep in mind that any investment into your roof is an important one, as it's protecting all of the contents within your home. Leaks that are ongoing can cause serious internal damage and place electrical appliances at great risk of water damage, not to mention at risk of electrocuting you or your family! You need to do what you can to ensure the professional you hire for the job has an extensive history of a 'job well done', so don't be shy in asking for referrals to previous customers who can vouch for their professionalism and integrity levels. Many companies will also have testimonials listed on their website, but it's always good to be thorough and to speak to previous customers directly yourself, as these testimonials could actually be fraudulent.
3. Not having a conversation about the roof repair contractor's technique
Contractors make their money by the hour, so there's always going to be an incentive for them to get the job done quicker so they stand a chance of picking up more income for that day's work. This might lead some who are less concerned about a thorough and reliable job and more concerned about making a quick profit to rush through the work required, replacing shingles and parts of the roof in an amateur manner.
For example, if you see a contractor pulling out a nail gun, beware! When replacing shingles, the nail must not be hammered in too deeply, as doing so could compromise its effectiveness and lead to more leaks bursting through in your roof. Nail guns carry too much power and have the effect of embedding the nail far too deeply into the plywood decking underneath the shingle. A trustworthy contractor will be well aware of this and will do their hammering by end so that they're able to get the nail in at just the right level for the shingle to be safe without causing damage.
4. Not confirming a guarantee
Whilst it may at first look like a job has been successfully completed and your roof is in tip-top shape, what happens if, sometime after the contractor has completed their work, a leak sprouts again, or your roof is still sagging in parts?
Any roof repair contractor worth their salt will put a guarantee on their work, as they're confident in their own quality and the standard of care they hold themselves and their employees to. If you have a guarantee in place in your contract before the work has even begun, you'll be able to have the contractor return at no extra cost if you find the job has not been completed to your satisfaction, or issues have arisen with the roof that should not have emerged should the job have been carried out entirely correctly.
Ask your roof repair contractor to run through the specifics of their company's quality guarantee and make sure you fully understand its details. If there is anything you feel is missing that should be included, either ask for this to be included at contract stage or look for a roof repair contractor who can give you the guarantee and peace of mind you're after. You're looking for a guarantee on both materials and on workmanship, which will cover you for repairs that won't come out of your pocket should something be missed in the original work.
5. Sacrificing the quality of your finished roof for small savings
The quote you will receive for the completed works will vary from contractor to contractor, and your instincts may tell you to go for the cheapest guy in order to save money. However, it's important to remember what it is you're actually paying for. (Remember how big those mortgage payments are every week? This is not an area where you want to skimp.)
If you sign the dotted lined with the cheapest option on the market, you'll see the results somewhere. The golden rule of 'if it seems too good to be true, it is' absolutely applies in the world of freelance contractors. Roof repair contractors who charge mid-market or high-end rates will stand by their quality and ensure that the price you pay is one that pays you back over time due to the results of their high-quality workmanship and attention to the detail required to get your roof back into great shape.  Book an Onsite Estimate > >
If you hire someone who's charging bottom dollars, you'll find they need to cut corners in one area or another in order to make that price achievable for their margins and their business set-up. Don't let yourself be fooled by this talk – do your research and ask multiple companies for quotes so you're able to understand what's a high, medium and low rate for the work you require. If you do receive a low rate, ask your contractor about how they arrived at that pricing. The same goes for those at the highest end – in fact, you may be able to negotiate them down to a mid-range quote if they're competitive and are looking to secure your business.
This market research will become leverage you can potentially use, and it'll also give you a fuller understanding of where the contractor you end up agreeing to move forward with falls in terms of market rates and value for your dollar.
Also, once you've found the contractor you'd like to move forward with, make sure the quote they give you is full and complete, with no nasty surprises. A reliable roof repair contractor will be able to provide a comprehensive figure that is based on a full understanding of the work that is required and the damage that needs to be addressed. Anyone providing you with a guesstimate or a 'rough' idea is much more likely to find the work is actually wider in scope than initially assumed, and it's you those costs are going to come back to bite when they go over their initial budget and the work is still not finished to a strong quality level.  Book an Onsite Estimate > >